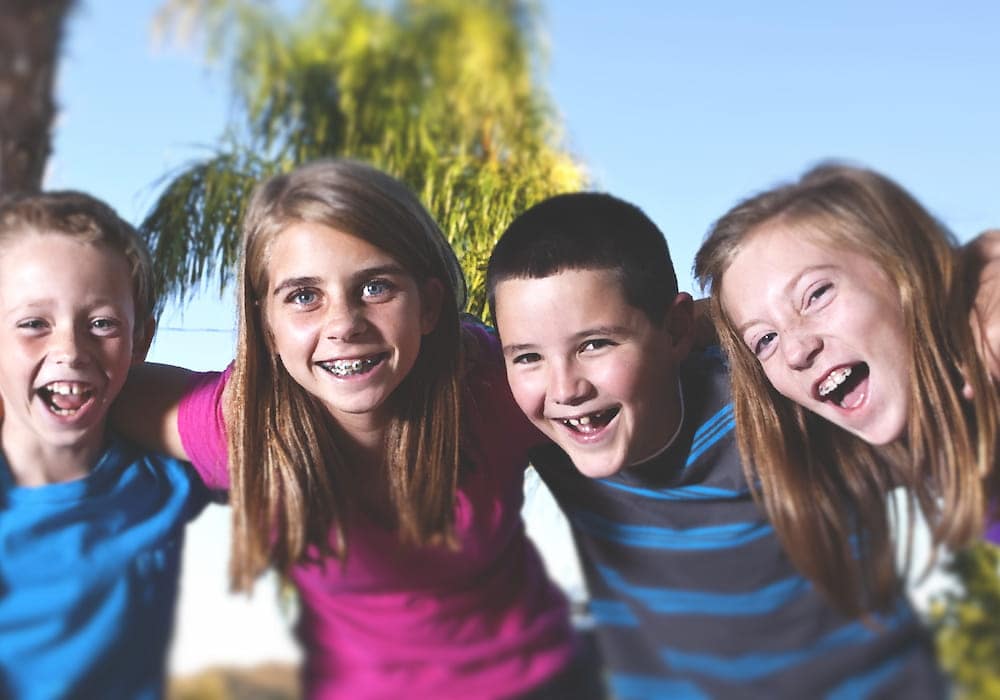 Since we opened our doors in 2008, Beverly Hills Orthodontics has proudly provided patients with the best orthodontic care available in Los Angeles and Southern California. Led by Dr. Monica Madan, BHO is recognized as one of the top Invisalign providers in the country. The BHO team offers much more than just Invisalign, however.
Using the latest digital tools and innovative treatment techniques, Dr. Madan and the BHO team provide top-notch care to patients of all ages—including children. According to the American Association of Orthodontists, children should attend their first orthodontic appointment at age 7.
By this age, permanent teeth are usually beginning to erupt as facial features continue developing. This gives orthodontists like Dr. Madan the perfect opportunity to:
Examine the child's teeth to ensure proper development.
Identify any developing alignment issues before they worsen.
Devise an early treatment plan to mitigate alignment problems and establish healthy habits for easier future treatments.
Beyond initial examinations, BHO offers a variety of treatments to correct everything from mild overbites to severe crowding. Below, we take a closer look at Beverly Hills Orthodontics' different pediatric services and discuss how your child can benefit from our expertise.
If you're looking for the best children's orthodontist in Los Angeles, read on to see how BHO can help your little ones.
Interceptive Orthodontic Treatments
Also known as "early orthodontics" or "phase-one orthodontics," interceptive orthodontic treatment involves discovering alignment problems at a young age to reduce their severity.
Taking your child to visit the orthodontist by age 7, as experts recommend, affords providers the perfect opportunity to pinpoint burgeoning alignment issues. If identified early on, orthodontists can take active measures to prevent dental challenges from becoming worse.
Interceptive orthodontic measures are simple in most cases, but their benefits are multifaceted. The most common interceptive treatments include:
Strategically removing certain baby teeth to accommodate emerging permanent teeth.
Using Invisalign First to reduce crowding and make space for emerging permanent teeth.
Expanding or narrowing the jaw with a removable retainer-like appliance.
Prevent thumb-sucking and tongue-thrusting with a small removable appliance.
With interceptive orthodontics, you can set your child on the path toward a healthier, straighter smile and help them avoid more extensive dental work later in life. These preventive measures can help give your child:
Clearer speech.
Better oral health.
The confidence that comes with a straighter smile.
Children's Invisalign
Beyond interceptive treatments, Beverly Hills Orthodontics also offers a range of standard orthodontic treatments for young patients—including Invisalign.
In years past, Invisalign treatments were not approved for children. However, thanks to recent technological and hardware advancements, Invisalign's age restrictions have been nearly eliminated. Today, children's orthodontists commonly use Invisalign to treat crowding, smile gaps, bite problems, and other alignment issues.
Depending on your child's age, they may qualify for either Invisalign First or standard Invisalign. Invisalign First uses the same method as standard Invisalign. Over the course of 6 to 24 months, patients wear custom-made sets of clear aligners that gradually move teeth into proper alignment. Patients wear each set of aligners for a week or two before switching them out for a new pair. In time, the patient's teeth gradually move into alignment.
The major difference between Invisalign First and standard Invisalign is that Invisalign First is an interceptive treatment designed for kids ages 6 to 10. It can quickly eliminate issues like overbites and smile gaps at an early age while providing ample room for emerging permanent teeth. Standard Invisalign is for patients older than 10 and is used to correct a range of problems, including:
Overcrowding
Tooth gaps
Overbite
Underbite
Open bite
Crossbite
Whether your child is right for the standard version or Invisalign First, they will enjoy all the advantages that clear aligner treatment can offer:
Discreet clear aligner appearance
Complete dietary freedom during treatment
The ability to remove aligners during physical activity
Unaltered flossing and brushing
Children's Braces
Although Invisalign First and Invisalign are excellent treatment options, they aren't perfect for every child.
Invisalign requires a great deal of personal responsibility from patients in order to succeed. Patients must faithfully wear their aligners 22 hours a day, every day, for ideal results. Even some adults struggle with this requirement, so make sure you evaluate your child's willingness and ability to follow treatment instructions before deciding.
In some cases, braces are often the better choice for children They have come a long way since the bulky, "brace-face" models we remember from the 1980s. Today's braces are smaller, more comfortable, and better-looking than those of the past. Children with braces can go about their lives without having to worry about losing their aligners or wearing them long enough each day.
See the comparison chart below for more information, or schedule an appointment with BHO to discuss the best options with your Los Angeles children's orthodontist.
Looking for the Best Children's Orthodontist in Los Angeles? Call BHO and Complete Your Search Today
Great oral health begins at an early age. Along with regular trips to the dentist, orthodontic appointments help keep your child's teeth and gums as healthy as possible.
Dr. Madan's early-age orthodontic care uncovers any developing problems with your child's bite alignment to start treatment as early as possible. These steps will give your child a healthier, better-looking smile in the short term and also simplify any future orthodontic work. Taking action now will help your child avoid severe alignment problems and the extensive treatments required to correct them later in life.
If you are ready to schedule your child's first orthodontic consultation, Beverly Hills Orthodontics is here for you. With locations in Beverly Hills/Century City, Toluca Lake, Alhambra, and Downtown Los Angeles, BHO makes orthodontic care convenient for both you and your child. Contact us today to get started.
Want to schedule an appointment with the best children's orthodontist in Los Angeles? Call or text us at 310-785-0770, or visit our contact page to book an appointment.