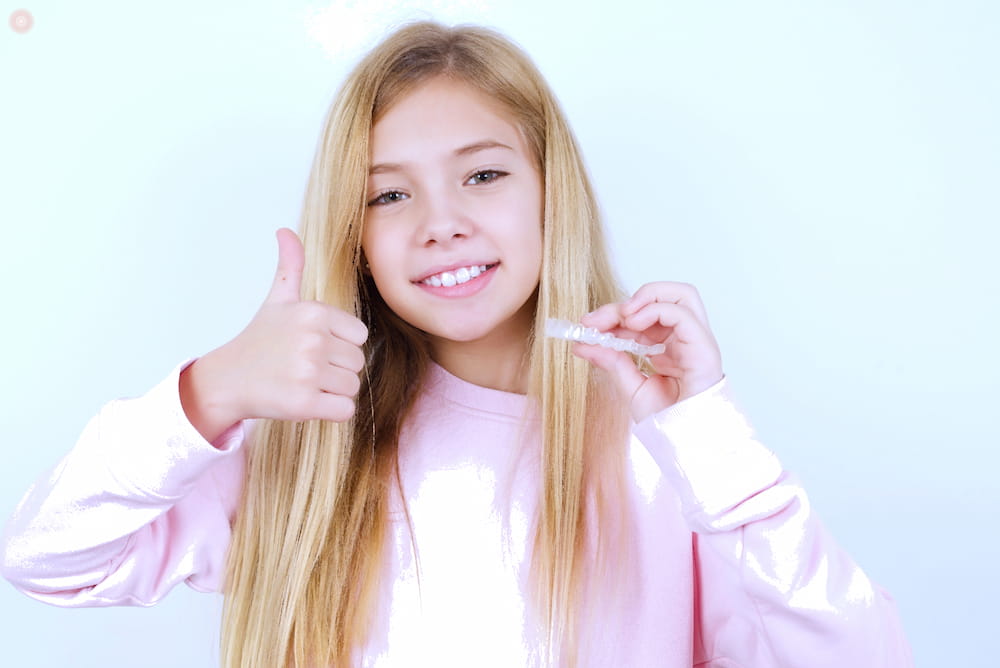 Starting to consider what's best for your child's smile?
Beginning at age 7, the American Academy of Orthodontists recommends that all children attend their first orthodontic consultation. If this sounds a little early to you, that's understandable. Many people still associate orthodontics with adolescence, even though orthodontic patients today range from ages 10 to 70, and beyond.
While people of all ages may have orthodontic work performed, treatment is most effective at an early age. When a child's face and jaw are still developing, orthodontists can more easily correct alignment issues such as:
Overcrowding
Smile gaps
Overbite
Underbite
Crossbite
Recent technological advancements have made pediatric orthodontic work more comfortable and effective than ever before. Interceptive orthodontic treatment measures and improved braces enable orthodontists to correct children's smile issues quickly and with less discomfort than in years past. Moreover, many younger patients now qualify for a program that was previously only available to adults: Invisalign.
Here at Beverly Hills Orthodontics, Dr. Monica Madan and the BHO team proudly provide Invisalign for kids across the Los Angeles area. Available through our four locations in Beverly Hills/Century City, Toluca Lake, Alhambra, and Downtown Los Angeles, Invisalign for kids offers your child a convenient way to achieve a perfect smile.
The Benefits of Invisalign for Kids
Our younger patients love Invisalign for the same reasons as our adult patients: discretion, comfort, and convenience.
The most obvious benefit of Invisalign is the transparent look of clear aligners. Although modern braces are much smaller and more comfortable than braces from previous decades, many patients still feel self-conscious about changing their appearance so drastically. Invisalign addresses these concerns by providing patients with completely transparent aligners.
Not only are these aligners inconspicuous, they are also comfortable. Invisalign aligner sets are custom-made to fit snugly around a patient's teeth, and each set comes with about 20 to 30 trays. Patients change their aligners every week or so, with each new aligner subtly moving teeth into better positions. Patients progress through their aligners in complete comfort, thanks to the pinpoint accuracy of the 3D dental software and equipment that produces Invisalign trays.
Finally, patients—both young and old—love that aligners can be removed to eat, drink, brush, floss, or exercise. Removable aligners offer patients a convenient treatment experience with:
Complete Dietary Freedom: Patients with braces often struggle to eat sticky or hard foods that can easily damage their wires/brackets. Invisalign patients remove their aligners before meals, which enables them to eat whatever they want throughout their treatment process!
Unaltered Brushing and Flossing: Brushing and flossing become more complicated with braces, which may increase the risk of patients developing cavities. Invisalign patients, on the other hand, can brush and floss as they always have, making oral care a breeze.
Invisalign Options: Invisalign First and Standard Invisalign
Invisalign isn't just an alternative to braces: it can also enhance children's interceptive orthodontic treatment.
Also called "phase-one orthodontics," interceptive orthodontics involves addressing alignment issues at an early stage to simplify future treatment. Interceptive orthodontic treatments are often simple measures that reduce crowding and minimize bite problems. Traditionally, palate expansion and tooth removal have been staples of interceptive orthodontics, but now Invisalign has entered the field with Invisalign First.
Designed for children ages 6 to 10, Invisalign First reduces crowding and creates additional room for erupting permanent teeth. As a result, Invisalign First patients can:
Avoid more intensive treatments (e.g., surgery)
Set a foundation for simpler orthodontic treatment later in life
Experience the health benefits of straighter teeth at a young age
Beyond interceptive care, standard Invisalign is also available for older children who are ready for orthodontic care.
Invisalign vs. Braces: Which Option is Right For Your Child?
Although Invisalign offers a number of exciting benefits, it isn't right for every child. Given that Invisalign aligners can be removed at any time, children must be responsible about wearing them for the duration of their treatment.
For Invisalign aligners to be effective, users must wear them for around 22 hours every day. Orthodontists recommend that patients only remove them when eating, drinking, brushing, flossing, or exercising. Afterward, patients should immediately replace their aligners. Failing to wear aligners for the proper amount of time will negatively affect a patient's progress by a significant amount.
Patients of all ages are often tempted to remove their aligners and leave them out for longer than recommended, and children may be particularly susceptible to this temptation. Moreover, children may be careless with their aligners, leading to loss or damage. This can result in:
Replacement costs
Delayed or extended treatment
Possible treatment complications
In comparison, braces demand less personal responsibility of your child. Our team performs all adjustments and your child does not need to worry about losing aligners or wearing them for a required amount of time every day.
Orthodontists recommend that patients only remove aligners when eating, brushing, flossing, and exercising. If patients neglect their aligners, it can significantly hinder treatment. Children in particular are susceptible to this problem.
For more information on the differences between braces and Invisalign, you can read our blog posts on the subject and consult the comparison chart below:
Children's Braces
Children's Invisalign
Pros

Can correct severe alignment issues
Often more affordable than Invisalign
No patient adjustments necessary
Children have no aligners to lose

Aligners are completely transparent
No dietary restrictions
Fewer office visits required
Unaltered brushing and flossing

Cons

Makes brushing and flossing more difficult
Has limited dietary restrictions
Causes mild discomfort

Effective results rely on responsible aligner use
Children can easily lose their aligners
Generally more expensive than braces
In Search of Invisalign for Kids in Los Angeles? Beverly Hills Orthodontics Has You Covered
Discreet, comfortable, and convenient, Invisalign is one of today's most popular orthodontic treatment solutions. Available to qualifying children and younger teens, Invisalign is a perfect fit for children who want the convenience of the Invisalign system and are responsible enough to use their aligners properly.
At Beverly Hills Orthodontics, we are proud to be recognized as one of the best Invisalign providers in the country. Every year, we provide Invisalign treatment for more than 400 patients of every age. If you're interested in an Invisalign for kids program in Los Angeles, contact one of BHO's four LA locations today to schedule a consultation. There, we can examine your child's smile, diagnose any present issues, and discuss the best possible treatment options. Call or text us today!
Want to learn more about Invisalign for kids in Los Angeles? Call or text us at 310-785-0770 or visit our contact page to book an appointment.