From the elaborate architecture and palatial homes to the palm tree-lined streets dotted with exotic cars, the beauty of Beverly Hills is undeniable. Known for its high-end shopping, spas, salons, and cosmetic clinics, our city has long been synonymous with glamour and luxury. 
If you're a resident of Beverly Hills, you know—it's only natural to want to look your best when you live in such a world-famous city. That's why it should come as no surprise that Beverly Hills beauty service providers are plentiful and the numbers are still growing. In fact, there has been a growing focus on oral beauty over the last few years. 
Why, you ask? Well, when you meet someone, what's the first thing you notice about them? According to a survey commissioned by Invisalign, an overwhelming 82% of U.S. adults agree that smiles are the first thing they notice when meeting new people. After all, our smiles are how we display and convey our personalities to the world, so it makes sense that our eyes are automatically drawn to the smiles of others.
Unfortunately, this also means that we might feel less confident and outgoing when we think our smiles look dull, off-color, or misaligned.1 Here at Beverly Hills Orthodontics (BHO), we want all our patients to be proud of their smiles, which is why we offer a range of oral beauty services. Keep reading to learn how our treatments can improve the look and health of your smile. #loveyoursmile
Beverly Hills Beauty Services for Oral Excellence
Having a smile you are proud to show off has so many physical and emotional health benefits. A beautiful, healthy smile can help to:
Boost your confidence
Enhance your appearance
Improve your mood (more smiling = more feel-good chemicals!)
Make you more approachable to strangers
Build lasting relationships
Although everyone's idea of a "perfect" smile is different, most people associate great smiles with two qualities:
Bright white teeth
Straight, uniform tooth alignment
Here at BHO, we help patients achieve both. 
Teeth Whitening
Radiant, white teeth are often associated with good oral health and hygiene—but for many people, twice-a-day brushing and daily flossing don't quite cut it. While things like poor oral hygiene and smoking can cause some tooth discoloration, staining is often hard to prevent. Your morning cup of joe, your happy hour wine, your evening tea, and even your homemade tomato sauce can cause staining.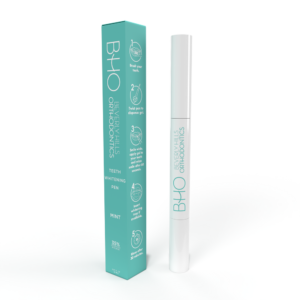 Luckily, teeth whitening treatments are more effective, cost-effective, and convenient than ever before. Today's teeth whitening treatments come in a variety of forms, including in-office service and take-home products. In any drugstore, you'll find numerous over-the-counter goods, including whitening toothpastes, gels, strips, and rinses. However, in-office bleaching is still considered the gold standard, as professional-strength whitening agents deliver better results than drugstore goods.
In-office treatment is quick, safe, and you see the results within 24 hours. Here's a look at how we perform whitening at Beverly Hills Orthodontics:
We begin with a simple cleaning to remove any plaque or tartar.
We apply a professional-strength whitening gel to your teeth, then use a UV light for 20 minutes to activate the whitening agents.
After 20 minutes, we turn off the light and reapply the gel to your smile.
Once the gel is reapplied, light exposure resumes.
Within a day or so, you can expect your smile to lighten by five to 10 shades (compared to ~1-2 shades with OTC whitening products).
In addition to our in-office treatment, BHO also offers take-home whitening kits that include custom-made whitening trays and whitening solution. Depending on your whitening goals, we may recommend that you wear your trays anywhere from 30 minutes to an hour or two to improve the color of your smile. We also offer whitening pens for on-the-go color improvement and Invisalign aligner-cleaning foam that simultaneously brightens teeth and improves aligner transparency.
Orthodontics 
Orthodontic treatment is not just for kids—in fact, according to the American Association of Orthodontics, 25% of all orthodontic patients are adults. Many adult patients simply didn't have the opportunity to have treatment when they were younger, while others began experiencing misalignment later in life. After all, teeth can shift at any age. Even if you had straight teeth when you were younger, you may still experience shifting and crowding as you get older. 
No matter what kind of misalignment you're dealing with, undergoing orthodontic treatment as an adult can dramatically improve your appearance and self-confidence by giving you the smile that you've always dreamed of. Conversely, leaving misaligned teeth untreated can lead to dental problems like tooth decay, excessive wear, gum disease, and difficulty chewing.
The two most popular orthodontic treatments are braces and Invisalign. Here's a look at how they compare:
Factors to consider

Braces

Invisalign 

Timeline

12-36 months 

~3-36 months 

Visibility/Aesthetics

Highly visible

Virtually invisible 

Removability

Fixed to teeth (non-removable)

Removable

Malocclusion Severity

Mild-to-severe

Mild-to-severe

*note: very few orthodontists, like BHO, can correct severe malocclusions with Invisalign.

Soft Tissue Discomfort

May cause sores or abrasions in the mouth

Smooth texture and lack of friction are unlikely to cause soft tissue pain

Lifestyle (e.g., sports)

Impact from physical activity may cause broken brackets and wires

Remove before sports to prevent aligner damage

Food Restrictions

No crunchy, sticky, or chewy foods that may damage brackets

Remove aligners before eating and drinking (except lukewarm water)

Oral Hygiene
Brushing:

Remove rubber bands to brush teeth. May require changes in technique to clean areas between and around wires

Flossing: Floss threaders, Super Floss, water flossers, etc.

Brushing:

Remove aligners to brush teeth. Clean trays with lukewarm water, a soft toothbrush, and gentle soap

Flossing: Normal flossing process
Ready for Your Smile Glow-Up? Schedule an Appointment at Beverly Hills Orthodontics Today
At Beverly Hills Orthodontics, we believe it's never too late to have a smile that you love. If you're looking to tap into the wealth of Beverly Hills beauty services for oral care, we are here to help. Whether you have slight discoloration or a complicated bite problem, Dr. Madan and the BHO team can create a personalized treatment plan that fits your unique goals, needs, and lifestyle preferences. 
Contact one of our offices in Beverly Hills, Studio City, Alhambra, or Downtown LA today to schedule an appointment.
Looking for the best Beverly Hills beauty services? Call or text us at 310-785-0770 or visit our contact page to book a whitening appointment or orthodontic consultation.
NOTE: All blog content is intended to supplement—NOT REPLACE—the expertise of a healthcare professional and should not be construed in any way as medical advice. Consult a professional orthodontist directly, like the ones at BHO, to assess your individual needs and advise the best course of treatment.
Endnotes
1 Horn, S., Matuszewska, N., Gkantidis, N., Verna, C., & Kanavakis, G. (2021). Smile dimensions affect self-perceived smile attractiveness. Scientific Reports, 11(1), 1-8. https://doi.org/10.1038/s41598-021-82478-9