You can tell a lot about someone by their smile. The way we flash our teeth when we first meet someone can leave a lasting impression on them, and the familiar look of a loved one's smile can instantly lift our own spirits. In fact, we humans put so much stock into our teeth that we often associate attractive smiles with intelligence and success.
More than that, loving your smile is an important part of having a positive self-image and can boost your confidence in social situations. Unfortunately, if you don't #loveyoursmile, the opposite emotions can intrude. Issues like misaligned bites, stained, or crowded teeth (among others), can make people feel anxious and self-conscious, sometimes to the point that they don't want to smile at all. 
Here at Beverly Hills Orthodontics, we want all of our patients to have a smile that they are proud to show off. As orthodontists, our treatments do more than just improve oral health—they permanently correct alignment issues and completely eliminate crowding to improve the look of your smile. In addition to orthodontic care, we also provide various whitening treatments to really make your teeth shine. 
If you've been considering a smile makeover in Los Angeles, here's what BHO can do for you:
Correct Crowding and Bite Issues with BHO's Patient-Centered Care Plans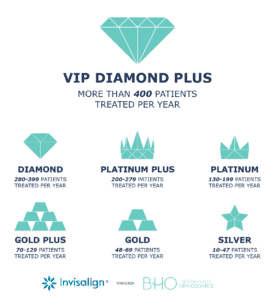 Founded by Ivy League graduate Dr. Monica Madan, Beverly Hills Orthodontics is officially recognized as one of the top Invisalign providers in the country. Due to our high level of care, long history of success, and an impressive number of annual cases, Invisalign has awarded BHO with VIP Diamond+ Status—the highest provider rank possible. 
Unlike many other Invisalign providers, Dr. Madan and the BHO team offer Invisalign treatment to patients with moderate-to-complex bite issues. In years past, various factors prevented orthodontists from using Invisalign to correct problems in adult patients beyond mild crowding and slight bite misalignments. Now, hardware improvements, enhanced software, and innovative techniques enable experts like Dr. Madan to use Invisalign to treat a wide range of issues affecting children, teens, and older adults. 
While other orthodontists and dentists routinely deny Invisalign treatment to patients due to age or case complexity, Dr. Madan and the BHO team offer Invisalign to patients of all ages struggling with:

Severe crowding
Excessive smile gaps
Overbite
Underbite
Crossbite
Open bite

Dr. Madan's expertise in combining Invisalign with advanced technology and additional measures like tooth extraction, surgery, and supplemental appliances is what allows us to treat all of these issues. 
In addition to Invisalign, Beverly Hills Orthodontics also offers conventional braces treatment plans. While many patients prefer Invisalign due to its discreet look and lack of dietary restrictions, others prefer the lower level of daily personal responsibility required by braces. After all, Invisalign users must be diligent about:
Keeping track of their aligners at all times
Wearing their aligners for 20-22 hours a day, every day—no exceptions
If you believe that Invisalign compliance may be an issue, braces will be a much better fit for your lifestyle. For a better understanding of the "braces vs. Invisalign" dynamic, see the comparison table below:
Key Factors
for
Deciding Your Treatment


Braces

Invisalign 

Visibility

Smaller and more attractive than older braces, but still highly visible

Transparent brackets offer a discreet look

Aligners are completely transparent, for a discreet look

Anterior Invisalign attachments are still visible to others

Personal Responsibility

Patients must attend regular adjustment appointments every 4-6 weeks

Sticky, hard, or tough foods may damage brackets

Patients must wear their aligners for 20-22 hours every day to keep treatment on track

Aligners are easily lost if you forget to use your case

Discomfort

Tension adjustments will increase pressure on your teeth, causing discomfort for a few hours.

Brackets and wires can irritate cheeks, gums, and lips at first

As you progress through sets of aligners, each new size will exert pressure on your teeth, causing discomfort for a day or two as your jaw adjusts

.

Diverse Teeth Whitening Treatments to Fit Your Lifestyle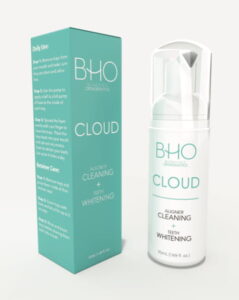 While orthodontic work can permanently improve oral health and enhance your appearance, not everyone searching for a smile makeover in Los Angeles needs to correct an alignment problem. In many cases, stained teeth are behind a lackluster smile. 
Although you can find teeth whitening products in drugstores across LA, these over-the-counter rinses, toothpastes, and strips rarely deliver substantial results and can take weeks before you see any noticeable improvements. If you truly want to eliminate stains, in-office bleaching from BHO is your best option. 
With in-office bleaching, you can make your smile 5-10 shades brighter in just one appointment. Fast, safe, and easy, our in-office treatments include the following steps:
We clean your teeth to remove any plaque or tartar.
We apply professional-strength whitening gel to your teeth. The gel produces better results than OTC products due to significantly stronger whitening agents.
We shine a UV light on your smile to activate the whitening agents.
After 20 minutes of light curing, we apply more whitening gel for another round of whitening.
Following another 20 minutes of UV light, we apply more whitening gel for one final round of whitening, after which you are ready to go home.
For patients that would rather whiten their smiles at home, we also offer take-home whitening kits. These kits contain custom-made whitening trays and gels that enable you to brighten your smile—from 30 minutes to an hour a day—from the comfort of your own home. Finally, we carry compact whitening pens for on-the-go touch-ups and Invisalign aligner-cleaning foam that can also be used to brighten teeth.
Looking for a Smile Makeover in Los Angeles?
BHO Has You Covered
Whether you're struggling with stained teeth, crowding, or a misaligned bite, Beverly Hills Orthodontics has a treatment for you. Since 2008, we have provided smile makeover services across Los Angeles to help people feel more confident, look better, and improve their oral health. 
Depending on which issues are affecting your teeth, we can use a range of treatments to enhance your smile. As a VIP Diamond+ Invisalign provider, we can use Invisalign to treat everything from mild misalignments to severe bite problems. Beyond Invisalign, we also use conventional braces and other orthodontic treatments to correct bite issues. Finally, our in-office and take-home whitening treatments can quickly eliminate stains and brighten your smile's appearance. 
Call one of our offices in Beverly Hills, Studio City, Alhambra, or Downtown LA today to discuss your treatment options.
Searching for a smile makeover in Los Angeles? Call or text us at 310-785-0770 or visit our contact page to book an appointment.