Located in the western part of California's San Gabriel Valley, South Pasadena is a charming city situated between Pasadena and Los Angeles. Covering a total of 3.42 square miles, South Pasadena is home to a total population of around 26,000 people.
Known for its tree-lined streets, historic buildings, and strong community involvement, South Pasadena has a small-town feel that people don't always associate with Los Angeles County. Great schools, parks, and a family-friendly culture make South Pasadena a great home for people of all ages.
Here at Beverly Hills Orthodontics, our mission is to provide excellent oral beauty services to communities across Los Angeles County—including South Pasadena. Our founder, Dr. Monica Madan, has always felt close to South Pasadena because she grew up just 3.5 miles away, in Pasadena Today, Dr. Madan and the BHO team proudly treat South Pasadenans at our nearby office in Alhambra.
If you're looking for the best orthodontists in South Pasadena, contact BHO to find out what we can do for you.
BHO's Alhambra Office: For the Best Oral Beauty Care in South Pasadena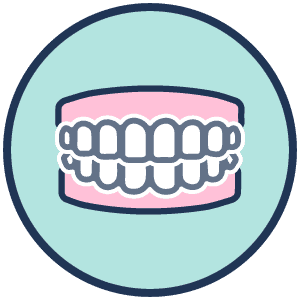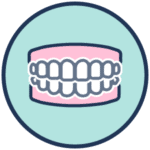 Since 2008, Beverly Hills Orthodontics has served Los Angeles with industry-leading oral care. Using cutting-edge digital tools, innovative treatment approaches, and a patient-centered philosophy, BHO creates comprehensive care plans that meet the needs and lifestyle preferences of each patient.
In 2019, Beverly Hills Orthodontics expanded into the South Pasadena area by opening an Alhambra office. Located in the space previously operated by Beautiful New Smiles, BHO's Alhambra office offers all the same top-notch services that Beverly Hills Orthodontics is known for. Available options include:
With these measures, the BHO team is able to treat everything from mild crowding to severe bite issues. To ensure that our treatments are comfortable, effective, and convenient, we develop each care plan with the input and approval of our patients.
How BHO Can Improve Your Smile
At Beverly Hills Orthodontics, we treat mild-to-severe alignment issues and give our patients flawless smiles. Using braces, Invisalign, and other orthodontic tools, we can correct:
Common Complaints
Crossbite
Overbite
Underbite
Open bite
Crooked teeth
Spacing issues
Bring Teeth Back
Teeth protrude too far forward
As one of the top-ranked Invisalign providers in the country, BHO can correct all of the issues above via clear aligner treatment.
In the past, limited technology and hardware prevented orthodontists from using Invisalign to correct most moderate-to-severe alignment problems. However, new techniques and technological advancements have increased Invisalign's versatility and widened the candidate pool. Today, orthodontists like BHO's own Dr. Madan combine Invisalign with additional measures to treat even the most complex issues.
Beyond Invisalign, BHO also offers conventional braces treatment. Like Invisalign, braces have undergone significant improvements in recent years. Contemporary braces are smaller, better-looking, and more comfortable than older models. In addition, enhanced treatment planning and accelerated orthodontic measures allow today's braces to reposition teeth more efficiently.
Looking for Family Orthodontic Care? BHO Has You Covered
In addition to treating adults, BHO also provides treatment for children and teenagers. When it comes to orthodontics, the sooner we can identify and treat an issue, the better.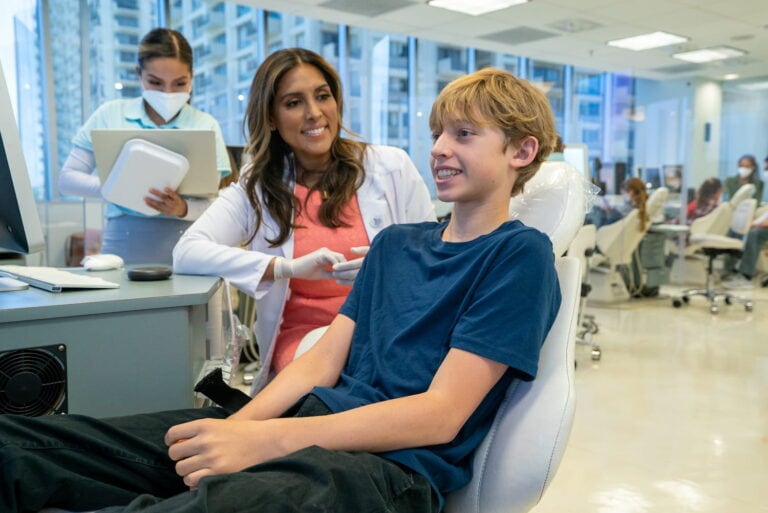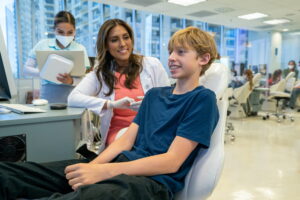 Although the American Association of Orthodontists recommends that patients begin visiting the orthodontist at age 7, we believe children should really attend their first consultation at age 5. At this age, we are able to diagnose burgeoning alignment issues, begin planning treatment, and introduce interceptive orthodontic measures that can reduce misalignment severity.
With the help of these early-age appointments, we can address problems before they become more complex and treat them swiftly. Because children's teeth and jaws are still growing, they respond more readily to orthodontic appliances than adults. Accordingly, early treatment is usually much quicker and less invasive than adult treatment plans, particularly when it comes to complex cases like severe underbite or overbite.
Depending on your child's age and case specifics, we may use the following measures in their treatment:
Headgear appliances

Palatal expanders
If you've been looking for a children's orthodontist near South Pasadena, call BHO's Alhambra office today to schedule an appointment with one of our Smile Specialists.
Searching for the Best Orthodontists in South Pasadena? Find Them at Beverly Hills Orthodontics
As a part of our goal to provide Californians with the best orthodontic care possible, the BHO team serves South Pasadena residents from our Alhmabra office. Located in the former offices of Beautiful New Smiles, BHO's Alhambra branch offers patient-centered treatments for all sorts of alignment problems.
A VIP Diamond Plus Invisalign provider, BHO is recognized as one of the top Invisalign practices in the country. In addition to Invisalign, we use an array of cutting-edge technologies to craft holistic care plans that complement each patient's lifestyle and preferences. Contact us today to learn how we can improve your smile.
Ready to meet the best orthodontists in South Pasadena? Call or text us at 310-785-0770 or visit our contact page to book an appointment.
NOTE: All blog content is intended to supplement—NOT REPLACE—the expertise of a healthcare professional and should not be construed in any way as medical advice. Consult a professional orthodontist directly, like the ones at BHO, to assess your individual needs and advise the best course of treatment.