When the average person thinks about orthodontics, images of braces usually come to mind. Long before orthodontics was a formally established medical field, doctors have used wires and brackets to treat misaligned bites and straighten crooked smiles. 
Treatment begins when an orthodontist attaches brackets to a patient's teeth. Once attached, the doctor threads an archwire between the brackets. Over the course of treatment, the orthodontist periodically adjusts the archwire to apply pressure on specific teeth, gradually moving them into the proper positions. Successfully completed treatment leaves patients with beautiful, perfectly straight smiles. 
Today's braces are vastly improved over past versions. Upgraded materials and advanced treatment techniques have made braces:
More effective and more efficient at moving teeth
Smaller and more aesthetically pleasing
More comfortable for patients
Available in multiple styles (i.e., patients can select ceramic or metal brackets, which can be placed behind the teeth in certain cases)
Since 2015, orthodontic patients have also been able to choose between conventional braces and an alternative: LightForce braces. LightForce braces use the same technique as conventional braces to correct misalignments but employ 3-D printed brackets instead of the standard metal. 
Orthodontists use software similar to Invisalign's to create digital treatment plans. The customized LightForce brackets fit patients' teeth more accurately and are precisely placed prior to treatment. This precision bracket placement, when combined with orthodontic expertise, allows for a significant decrease in treatment time and increased treatment efficiency.
In this "LightForce braces vs. metal braces" breakdown, we compare the two treatments to help new patients explore what their best option might be.
LightForce Braces vs. Metal Braces: LightForce Advantages
If you've never seen LightForce braces before, you might easily mistake them for conventional ceramic braces. After all, LightForce brackets are made from ceramic and threaded with metal wires.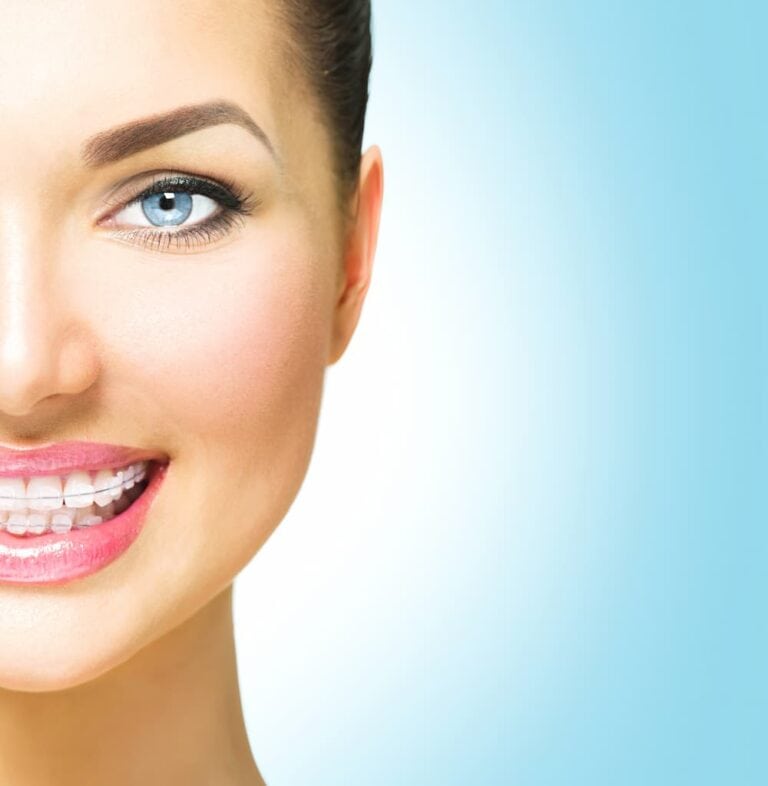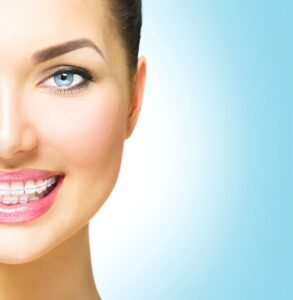 If you were an orthodontist, however, you would likely notice some substantial differences. The most important difference concerns LightForce brackets, which are considerably different from traditional brackets. 
Conventional brackets are mass-produced via injection molding—an industrial process that injects hot materials into mold cavities under high pressure. Injection molding allows manufacturers to produce thousands of brackets daily with reliable results. This also means that conventional brackets come in stock sizes and are not customized for individual patients. 
LightForce takes the opposite approach to making brackets. After taking intraoral scans of a patient's teeth, LightForce brackets are 3-D printed to fit the contours of each tooth precisely and accommodate specific movements. This high level of customization makes LightForce brackets smaller, more comfortable, and more effective at moving teeth than braces with conventional brackets. 
The LightForce web-based software, LightPlan, also allows orthodontists to create highly detailed care plans and make easy adjustments throughout treatment. As a result, LightForce braces have been shown to:
Significantly reduce treatment times by 4-6 months.

Create a more comfortable patient experience. 

Require fewer adjustment appointments.

Enable simpler oral care routines

due to the smaller bracket size.
LightForce Braces vs. Metal Braces: Why You Might Still Prefer Conventional Braces
While LightForce braces are truly custom-made, conventional metal and ceramic braces can be considered "one size fits all." Although traditional brackets and wires can still correct mild-to-severe alignment problems, they are not as efficient or aesthetically pleasing as LightForce braces. That said, many patients still choose traditional braces over LightForce braces for various reasons.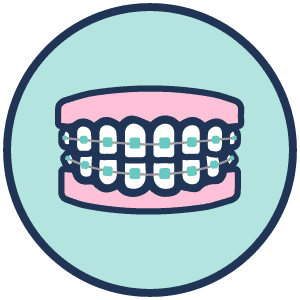 The biggest reason patients choose metal braces over LightForce braces is cost. Because LightForce Braces are customized to the patient, they take more money to produce. In general, LightForce braces may cost a bit more than metal braces. Cost factors change from patient to patient, however, so your experience may vary. 
Other patients feel more comfortable choosing metal braces because they are more familiar with them. Metal braces have existed for hundreds of years and many patients simply choose what they are most familiar with. In certain cases, patients even prefer the classic look of metal braces over the inconspicuous appearance of LightForce.
Comparison: Metal vs. LightForce Braces

Metal
LightForce
Bonded brackets:

✔️

✔️

Metal archwire:

✔️

✔️

Mild-to-severe alignment issues:

✔️

✔️

Brackets:

One size fits all

Custom 3-D printed

Comfort:

Some discomfort

More comfortable

Follow-up:

Adjustments may be frequent

Fewer adjustments

Treatment length:

6 to 36 mos.,




based on case specifics

6-12mos.

shorter
Aesthetics:

Classic, familiar

Smaller, less obvious

Cost:
💲
💲💲💲
Regardless of which option you choose, LightForce braces and metal braces are both excellent orthodontic appliances capable of giving you a flawlessly straight smile.
Interested in Orthodontic Care? Schedule a Consultation at Beverly Hills Orthodontics Today
Both LightForce braces and conventional metal braces have the power to correct the vast majority of orthodontic problems. From mild overbites to severe crowding, both types of braces can eliminate a wide variety of issues to provide you with a perfect smile. 
However, the differences between LightForce and metal braces are enough to make some clients prefer one option over another. In general, LightForce braces are less noticeable, more efficient, and more comfortable than conventional metal braces. On the other hand, metal braces are more affordable and may look more familiar than LightForce braces, which can make them more appealing to certain patients. 
If you have more "LightForce braces vs. metal braces" questions, Beverly Hills Orthodontics is happy to give you all the answers. Founded by Ivy League-educated Dr. Monica Madan, BHO has four Los Angeles locations: Beverly Hills, Studio City, Alhambra, and Downtown LA. Contact us today to schedule a consultation and begin your journey toward a flawless smile!
Have more "LightForce braces vs. metal braces" questions? Call or text us at (310) 785-0770 or visit our contact page to reflect a free consultation and find the answers.