For years, tooth-whitening products have been steadily increasing in popularity. If you go to any pharmacy, supermarket, or convenience store, you'll find an array of toothpastes, strips, rinses, and other goods that promise to eliminate stains and brighten your smile.
Among the overwhelming number of different products, purple toothpaste might stand out to you as an interesting option. Unlike many other whitening products, purple toothpaste doesn't necessarily use bleaching agents like hydrogen peroxide for whitening. Instead, purple toothpaste aims to minimize stains by depositing purple-hued micro-particles onto your teeth. These particles are intended to counteract the yellow stains, creating a white appearance.
So, does purple toothpaste work? Keep reading to learn what the experts at Beverly Hills Orthodontics have to say on the subject.
What Is Purple Toothpaste, Exactly? And How Does It Differ from Standard Toothpaste?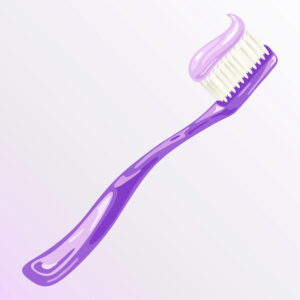 Purple toothpaste aims to brighten teeth in a manner similar to the way purple shampoo improves the color of blonde, silver, and gray hair.
People with light-colored hair—particularly if it's color treated—use purple shampoo to reduce "brassiness." The shampoo's violet and purple pigments neutralize overly brassy or yellow tones that appear because of sunlight exposure, chlorine, or certain hair products, and make hair look dull and lifeless.
By neutralizing these tones, the purple shampoo restores the hair's natural color and gives users a healthier appearance. Purple toothpaste uses the same color-correcting concept as purple shampoo, but instead of neutralizing yellow tones, the deposited pigment conceals stains and gives the appearance of improved brightness by comparison.
Does Purple Toothpaste Work? Yes, To a Certain Degree
Purple toothpaste companies like Hismile are very effective at advertising their products on social media channels like TikTok and Instagram. Their short videos often show dramatic improvements in just one or two uses. However, you shouldn't expect major changes in your smile's appearance.
Does purple toothpaste work? Kind of. Purple toothpaste may be able to give your smile a temporarily brighter appearance, but the pigment is only able to minimize the appearance of stains, not eliminate them.
Conventional whitening products and treatments use bleaching agents like hydrogen peroxide to break apart stain-causing colored molecules and, eventually, remove them altogether. Purple toothpaste does not do this, so it doesn't actually brighten your teeth. It will only make your teeth appear whiter until the pigment is gone.
If you want a brighter smile that will last, professional in-office bleaching and take-home whitening kits are a better choice.
For a Significantly Brighter Smile, Professional Whitening Treatments Are the Way To Go
Unlike purple toothpaste, all whitening treatments have the capacity to eliminate the stains on your teeth and truly brighten your smile. However, different treatments produce different results.
Over-the-counter whitening strips, rinses, and toothpastes are the least effective way to improve your smile. These products can take weeks to produce results and will only improve your smile's brightness by a shade or two. Professional treatments, on the other hand, deliver dramatic results at a much quicker pace.
At Beverly Hills Orthodontics®, we brighten smiles in one of three ways:
In-office teeth bleaching (the most effective and quickest option)
Take-home whitening kits (with custom-built aligners and powerful whitening agents to brighten smiles)
On-the-go whitening pens and aligner cleaning foam (small, convenient, and OTC-level effectiveness)
If you want to significantly improve your smile in a short time, in-office bleaching can brighten your teeth by 5-10 shades in just one appointment. In-office bleaching is a simple procedure that takes 1-2 hours to complete. At BHO, our bleaching appointments include these steps:
We begin with a simple cleaning to remove any plaque or tartar.
We apply a professional-strength whitening gel to your teeth, then use a UV light for 20 minutes to activate the whitening agents. 
After 20 minutes, we turn off the light and reapply the gel to your smile.
Once the gel is reapplied, light exposure resumes.
We follow this process until your teeth have reached the desired brightness. The chart below offers a better explanation of how OTC treatments compare to professional bleaching.
In-Office vs. OTC Whitening

In-Office Zoom Teeth Whitening
Whitening Toothpaste
Whitening  Strips
Whitening  Rinses
Treatments*
1 appointment
14-56 uses  (assumes 2x/day brushing)
~14 uses (assumes 1x/day application)
~90 rinses (assumes 1x/day rinsing)
Results
5-10 shades
1-2 shades
1-2 shades
1-2 shades
Time to Results
1-2 hours
1-4 weeks (672 hrs.)
~2 weeks (336 hrs.)
~3 months (2,016 hrs.)
*Assumes 30 days per month to calculate the number of treatments.
If in-office bleaching does not fit into your schedule, our take-home kits and on-the-go whitening products are a great way to brighten your smile on your own time.
Purple Toothpaste Can Slightly Improve Your Smile's Brightness, But Better Options Are Available
Purple toothpaste is one of many over-the-counter whitening products on the market today. Like other whitening products, purple toothpaste can brighten your smile and reduce stain appearance. However, you should not expect any dramatic improvements.
OTC whitening products—whether tubes of toothpaste, rinses, strips, or serums—can take weeks to produce results and can only brighten smiles by a shade or two. If you are not dealing with significant stains, this small improvement may be exactly what you are looking for. However, if you are looking for more substantial results, there are better options available.
For example, at Beverly Hills Orthodontics, we offer in-office bleaching and take-home whitening kits to all of our patients. Both of these options deliver better results than OTC products because they use professional-grade whitening agents and are administered by dental experts. Contact one of BHO's locations in Beverly Hills, Studio City, Alhambra, or Downtown LA today to learn more about your whitening options.
Does purple toothpaste work? To some degree, but professional treatments and in-office bleaching deliver much better results. Call or text BHO at 310-785-0770 or visit our contact page to book a whitening appointment and set yourself on the path toward a brighter smile.