Have you noticed any small, triangular gaps along the gum line of your smile? Commonly called "black triangles" and professionally called "open gingival embrasures," these gaps can occur for various reasons at any age. 
For example, many people develop black triangles between their teeth at an early age simply because of genetics. From person to person, teeth come in different shapes and sizes. If you have naturally triangular teeth (more mass at the crown, less mass toward the root), you may experience black triangles during childhood. In other cases, gum recession and dental trauma can cause black triangles in adults and seniors. 
At Beverly Hills Orthodontics®, black triangles between teeth is one of the many conditions that we treat. If you've been considering treatment for your smile gaps, keep reading to learn more about black triangles, what causes them, and what your available treatment options are. 
Why Black Triangles Form In Our Smiles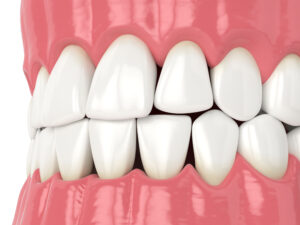 Open gingival embrasures can develop in your smile at any age. For many patients, multiple factors influence the development of these black triangles, which is why they tend to emerge later in life. 
As we mentioned earlier, genetics plays a significant role in black triangle development. Not only can your tooth shape or size create natural gaps, but alignment issues and crowding can also increase these gaps over time until they become highly noticeable black triangles. 
Malocclusions (e.g., underbite, overbite, crossbite, etc.) and dental crowding can cause teeth to push against one another and apply uneven pressure on the gums. These factors lead to gum recession, which results in black triangles. In addition to genetics, black triangles can form or worsen because of:
Natural gum recession and bone loss caused by aging
Periodontal disease and similar gum issues
Physical trauma to the gums, teeth, jaw, etc.
Weakened jawbone due to tooth loss
Poor oral hygiene
Finally, black triangles may appear at the end of orthodontic care. Orthodontic appliances like Invisalign and braces do not actually create black triangles. However, by straightening crooked teeth, they sometimes reveal gaps that would have previously existed if the teeth had been perfectly aligned, to begin with.
For Treating Black Triangles Between Teeth
Orthodontics Is the Gold Standard
Although cosmetic dentistry uses methods like bonding for fast, aesthetic results, the solution is far from permanent. If you want to get rid of black triangles between your teeth, you'll need to make an appointment with an orthodontist. 
Orthodontic Treatment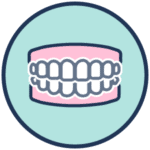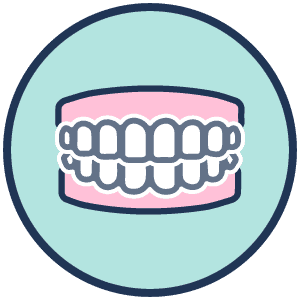 While cosmetic treatments aim to cover up black triangles or fill them with composite material, orthodontic treatments

completely eliminate them by physically bringing teeth closer together

. 

Typically, more

triangular-shaped

teeth

△△

tend to have larger black triangles associated with them.

The first step in black triangle orthodontic treatment is a

polishing procedure

known as

interproximal reduction (IPR)

. In simple terms, IPR is a procedure in which an orthodontist polishes away a small portion of tooth enamel to create space between teeth.
Beverly Hills Orthodontics most often performs IPR with a small polishing strip that doesn't cause any patient discomfort. We use it to remove just a few microns of enamel from the problematic teeth so that the triangular areas take a more rectangular shape. 
After the teeth have received IPR, we use either Invisalign or braces to bring them together. Thanks to IPR, once the clear aligners/braces successfully realign the smile after 6-12 months, the newly reshaped teeth will fit snugly next to each other with little-to-no gap. Most black triangle patients qualify for both Invisalign and braces and can select whichever option best suits their lifestyle. 
Drawbacks of Cosmetic "Fixes"
May not provide the look you want.

Bonding can look bad because it's very difficult to fill in the black triangle space and ensure the teeth maintain a

natural

shape.

Restoration (bonding) tends not to last.

It is almost impossible to keep the area along the gumline dry enough to place the composite bonding material.
Industry experts frequently agree that orthodontics is a better black triangle treatment route than cosmetic dentistry because:
It significantly reduces black triangles and retains the natural shape of your teeth.
Gums respond better to orthodontic treatments to reposition the teeth than they do to staying in close, perpetual contact with imperfect dental bonding.
Beyond improving your personal aesthetics, orthodontic care provides patients with numerous health benefits.
However, there is a limit to what IPR and Invisalign/braces can accomplish. After all, you can only remove so much enamel before sensitivity becomes a problem. In extreme black triangle cases—where gaps are much larger than normal—IPR may not be enough to fully eliminate the triangular void. In these severe cases, cosmetic dentistry is the only way forward. The table below offers a quick summary of these points.
Comparing Black Triangle Treatment Options

Orthodontic 
Cosmetic
Options

IPR with Invisalign

IPR with braces

Pros

Permanent solution

Potential health benefits

Comfortable for gums

Cons

More time-consuming than cosmetic dentistry

Not an option for severe cases

Poor/ unnatural aesthetic results

Frequent touch-ups & corrections

Cosmetic solution ONLY

Periodic replacements required

Only highly skilled dentists can perform treatment
Unhappy with the Black Triangles Between Your Teeth?
Beverly Hills Orthodontics Can Help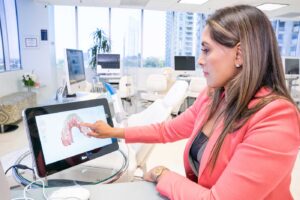 Although black triangles are physically small, they can be extremely noticeable to yourself and others. Thankfully, they are easy to correct if you partner with a skilled orthodontist like Beverly Hills Orthodontics' own Dr. Monica Madan. 
Recognized as one of the top Invisalign providers in the country, BHO has been treating patients across Los Angeles since we opened our doors in 2008. Located in Beverly Hills, Studio City, Alhambra, and Downtown LA, Beverly Hills Orthodontics treats a wide variety of alignment issues, including black triangles. 
We specialize in creating unique care plans that honor the preferences, schedules, and priorities of each individual patient. Within a matter of months, we can eliminate the black triangles between your teeth and provide you with a flawless smile that will last a lifetime. Contact us today to learn more.
Considering treatment for the black triangles between your teeth? Call or text us at 310-785-0770 or visit our contact page to book an appointment.