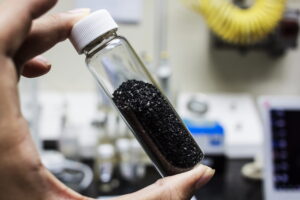 Activated charcoal—also called activated carbon—is a highly porous material that gained enormous popularity in recent years as a multi-purpose health supplement.
Although the term "activated charcoal" might conjure mental pictures of BBQ briquets, this ingredient is actually quite different from conventional charcoal. Conventional charcoal is a burned, wood-based material that has long been used as a heat source and cooking fuel. 
Activated charcoal, on the other hand, is a fine-grained carbon powder that has been heated and oxygenated to increase pore size. This oxygenation process is called "activation" and it lends its name to activated charcoal. 
The adsorbent properties of activated charcoal (it picks up other substances like a magnet)  make it a useful ingredient in many medical, cosmetic, and environmental products. For example, activated charcoal is commonly used in:
Poison control treatments
Overdose-reversing drugs
Skincare products
Water and air purifiers

Beyond these goods, activated charcoal's rising profile on social media and in trendy publications as an earthy, all-in-one, "natural" solution has influenced manufacturers to add it to many other products—including toothpaste.
If you've seen charcoal toothpaste products in your local stores, you may have some questions about it, including:  
Why are companies adding charcoal to toothpaste?
How is activated charcoal supposed to improve your smile?
Is charcoal toothpaste bad for your teeth?
Since 2008, Beverly Hills Orthodontics® has been providing top-notch orthodontic care and oral beauty services across Los Angeles. In this blog, the BHO team answers the most common concerns about charcoal toothpaste and explains how it may affect your smile. 
Why Is There Activated Charcoal in My Toothpaste?
Activated charcoal is a highly porous material that excels at absorbing numerous substances, including (potentially) toxins present in the human body. For this reason, activated charcoal has long been used in life-saving medications and pharmaceuticals that rid the body of harmful chemicals and compounds. 
Dermatologists and other skincare professionals also leverage activated charcoal's adsorbent properties by adding it to exfoliating creams, oil-controlling lotions, and acne treatments. Activated charcoal is accredited with removing undesired substances from your pores, creating clearer, cleaner, and healthier skin as a result. 
Depending on product specifics, activated charcoal may be able to remove the following substances from your skin: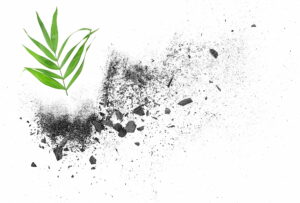 Dirt
Debris
Oil
Dead skin particles
Similar to the way activated charcoal is credited with improving the absorbent properties of skin care products, toothpaste manufacturers aim to boost the bacteria- and stain-removing properties of their goods by adding activated charcoal. 
It sounds good in theory, but how well does it work in practice? Let's take a look. 
Is Charcoal Toothpaste Bad for Your Teeth?
Charcoal toothpaste manufacturers commonly claim that activated charcoal aids in surface stain removal. However, there is not enough evidence to fully support these claims, and there are ample studies that show how charcoal wears down enamel, which can contribute to a more yellowed appearance in teeth.
In addition to being absorbent, activated charcoal is also a very abrasive substance. Toothpaste advertisers frequently suggest that these abrasive qualities help their products remove stains more effectively. While this may be true in select cases, charcoal's abrasive properties also wear down tooth enamel—the whitest and outermost layer of your teeth. 
Beneath enamel lies a layer of dentin, a yellowish substance that protects the pulp, the tooth's innermost layer. Dentin gives your teeth structural support and transmits sensations like pain, pressure, and temperature. As your enamel thins and reveals more dentin, you may experience a range of negative effects, including:
Greater sensitivity to heat, cold, applied pressure, and sugary foods/beverages
Pervasive discoloration
Weaker tooth structure
Increased risk of dental decay
While charcoal toothpaste will not cause such effects immediately, many studies suggest that they are the likely consequences of frequent or repeated charcoal toothpaste use. See the chart below for links to relevant peer-reviewed studies and surveys that make these claims:
Unhappy With the Color of Your Smile? BHO Has Better Whitening Solutions
Very limited published research supports the claim that charcoal toothpaste can whiten teeth. Meanwhile, there are numerous studies that warn of the potential for enamel damage from charcoal toothpaste use. As dental professionals, we do not believe the potential benefits of charcoal toothpaste are worth the risks.
If you are looking for ways to improve the color of your teeth, there are better options available than charcoal toothpaste. For a drug store solution, generic whitening toothpaste can reduce stain appearance by a shade or two after 1-4 weeks of use, without damaging your tooth enamel. However, if you want to significantly improve the look of your teeth in a timely manner, professional treatment is a better route. 
Beverly Hills Orthodontics offers numerous teeth whitening treatments that deliver dramatic results. In-office bleaching is our most convenient and powerful solution. Completed in just one appointment, in-office bleaching can whiten your teeth by 5-10 shades in a matter of hours. 
If your schedule doesn't allow for an in-office appointment, we also provide take-home whitening kits so you can brighten your smile on your own time. These kits come with custom-made trays and powerful whitening gels that you use yourself. 
The table below helps illustrate the comparison of different whitening options: 
In-Office Bleaching
Take-Home Whitening Kit
Whitening Toothpaste
Treatments
1 appointment
~14 uses
(assumes 1x/day application)
14-56 uses
(assumes 2x/day brushing)
Results
5-10 shades
1-8 shades
1-2 shades
Time to Results
1-2 hours
~2 weeks
1-4 weeks
Let Beverly Hills Orthodontics Brighten Your Smile
Activated charcoal has many proven health benefits, but none of them relate to oral care. Although there is limited evidence that supports charcoal toothpaste's whitening properties, many studies have shown that charcoal toothpaste use can damage tooth enamel. 
Professional in-office teeth bleaching and take-home whitening kits are much safer and more effective for brightening teeth. At Beverly Hills Orthodontics, we provide these teeth whitening services from our four offices across Los Angeles. Locations include:

Call us today to arrange a whitening appointment. If you are not in the Los Angeles area but still want to brighten your smile, you may be interested in our branded whitening pens and Invisalign aligner-cleaning foam. 
Is charcoal toothpaste bad for your teeth? Not necessarily, but it might damage your enamel. For safer, more effective whitening solutions, contact Beverly Hills Orthodontics to schedule a professional teeth bleaching consultation. Call or text us at 310-785-0770 or visit our contact page to book an appointment.